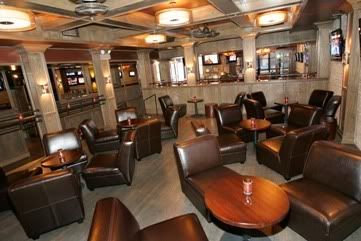 Consider swanky sports lounge WestEnd for your co-worker sponsored holiday bash.
How about ditching that corporate-sponsored holiday shindig this year and hosting your own? Or perhaps you just want to cut loose after the main festivities with a crew of the coolest co-workers from the office.
Regardless, as the worker bees, it's not like you can bankroll one of those fancy fetes yourself, so I'm recommending one of these spots where you don't have to worry about room rentals, deposits, package deals, etc.
Just show up and hang at:
Junior's Sports Lounge
(724 W Maxwell St., 312-421-2277). Massive sports bar has great deals every Tuesday and Wednesday. Tuesday's game night features $10 Bud Light pitchers, $13 buckets of Bud bottles, plus free pool, a hilarious bean bag game, Wii bowling and board games; or head here Wednesday for half-priced appetizers (excluding wings), $5 mojitos and specialty martinis.
Landmark
(1633 N. Halsted St., 312-587-1600). Weekly
"Wino Wednesdays"
at this trendy Lincoln Park lounge offers half off on bottles of wine from the "50 under $50" list, $5 Skyy vodka martinis and free pizzas from their wood-burning oven.
Nacional 27
(325 W. Huron St., 312-664-2727). Or you can always test your co-workers' skills on the dance floor (or show off yours!) with
Latin Street Beat Thursdays
with South American appetizers and cocktails for $3-$4. There's also Latin house music and live percussion. Woo hoo!
WestEnd Bar & Grill
(1326 W. Madison St., 312-733-0574). Unwind with your work pals at this swanky new sports bar in the West Loop. Thursdays are ideal for their $10 pizzas that come with unlimited toppings such as sausage, basil, arugula, fresh garlic, mushrooms, black olives or pepperoni. Each serves up to four people and they go great with the $16 Goose Island Honkers buckets.
Zocalo
(358 W. Ontario St., 312-302-9977). No deals on appetizers where famed chef
Dudley Nieto
resides, but the Thursday drink specials are perfect when you need to save a few bucks. For $5, you can swill sangria Roja (with red wine, Presidente brandy, triple sec, mango and guava juices) or the Citrus Cazuela (with Milagro citrus tequila, Fresca, white wine, and grapefruit, orange, lemon lime juices) all night long. That'll go fine with their fresh plaintain and corn chips served with a flight of signature guacamoles that are spicy, tangy and sweet.