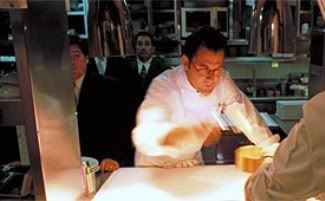 Charlie Trotter's (shown above) and Alinea were the only Chicago restaurants to receive five stars from the
2008 Mobile Travel Guide
.
(Photo: Charlie Trotter's)
The
2008 Mobil Travel Guide
comes out today in stores, and several of Chicago's top restaurants received some pretty high honors. The following spots totally deserve the props, but the list is pretty predictable. [Hey, what about
Moto
(945 W. Fulton Market, 312-491-0058)
NaHa
(500 N. Clark St., 312-321-6242),
NoMI
(800 N. Michigan Ave., 312-239-4030),
Sepia
(123 Jefferson St., 312-441-1920) or
Topolobampo
(445 N. Clark St., 312-661-1434)?!]
Five Star honors:
Alinea
(1723 N. Halsted St., 312-867-0110): "Steaming eucalyptus leaves, smoking cinnamon sticks or lavender air-filled pillows are just some of the unusual elements that may be incorporated in the presentation of some dishes."
Charlie Trotter's
(816 W. Armitage Ave., 773-248-6228): "Charlie Trotter's is a place for people who prefer food to be treated like a work of art. It's also a restaurant for those who value a chef's masterful ability to transform sustenance into culinary wonder."
Four Star honors:
Avenues
(108 E. Superior St., 312-573-6754): "Cutting edge, contemporary cuisine awaits diners at Avenues, located within Chicago's Peninsula Hotel."
Everest
(440 S. LaSalle St., 312-663-8920): "Chef and owner Jean Joho blends European influences with local, seasonal American ingredients. He's not afraid to pair noble ingredient like caviar with humbler fruits of American soil such as potatoes and turnips."
Les Nomades
(222 E. Ontario St., 312-649-9010): "Chef Chris Nugent has crafted a traditional French menu that features dishes such as white asparagus soup with wild mushrooms and truffle froth."
Seasons
(120 E. Delaware Pl., 312-280-8000): "Seasons restaurant has a diverse menu that changes depending upon the availability of fresh ingredients such as a surf and turf tartare, which features American Kobe beef with violet mustard, or ahi tuna with wasabi sorbet and tamarind-soy gelee."
Tru
(676 N. St. Clair St., 312-202-0001): "Tru's modern, airy dining room is a stunning stage for chef and co-owner Rick Tramonto's progressive French creations and co-owner pastry chef Gale Gand's incredible, one-of-a-kind sweet and savory endings."