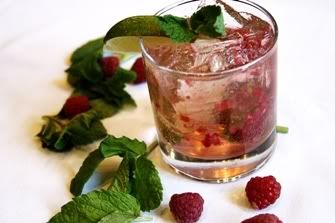 Niu's fresh raspberry mojito is $5 every Monday. (Photo: Niu)
New-ish Streeterville sushi spot
Niu
(332 E. Illinois St., 312-527-2888) is aiming to make a name for itself with an exotic "fusion" menu and a futuristic, clubby design. And while many of their sushi offerings are standard fare, there are some real standouts, too.
Start with the Crouching Tiger (lettuce wrapped with tempura shrimp and spicy tuna) or Hirame tapas (fresh flute, cilantro, kaiware, caviar, drizzled with sesame ponzu dressing), then order specialty rolls like the Aloha Albacore (crabmeat and spicy tuna topped with albacore, bonito flakes served with garlic ponzu and wasabi mayo sauce), Sexy Mexican (shrimp, spicy crab, jalapeño topped with avocado) or Energy (tempura eel, onions and cream cheese inside, topped with baked eel and avocado served with ponzu and eel sauce).
While the sushi and other entrees are at regular price on Monday, they're featuring $5 raspberry mojitos that would complement your meal nicely. And because Niu is right next door to
AMC River East 21
(322 E. Illinois St., 847-765-7262), you can finally catch up on all those movies you want to see.