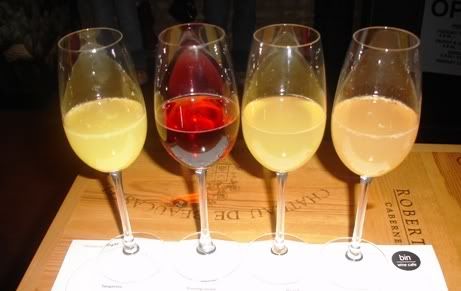 Bin Wine Café's
Mimosa Flight
: pineapple (from left), pomegranate, Bellini and Madras (Photo: Bin Wine Café)
Extend your Valentine's Day festivities through the weekend this year. Have dinner on Thursday, party on Friday and Saturday, and chill out with brunch on Sunday.
Feeling particularly romantic? Share luscious bites with your sig other at some of my favorite spots for amore:
Bin Wine Café
(1559 N. Milwaukee Ave., 773-486-2233). Share a few items like the
Brunch Pizza
(with poached egg, Applewood smoked bacon, spinach, frisee),
Croque Monsieur
(speck ham, roasted chicken, blue cheese, with fries) or the cheese flight, in which you get six awesome selections specially picked out by the staff. And speaking of flights, be sure to order the
Mimosa Flight
, 3 oz. tasting portions of champagne-infused cocktails, with fresh pineapple, pomegranate, peach nectar (Bellini) as well as orange juice with a splash of cranberry (Madras).
La Creperie
(2845 N. Clark St., 773-528-9050). The cozy, family-run bistro serves up sweet and savory crepes that are legendary. My favorites include
poulet & fromage de chevre
(chicken breast with roasted tomatoes and goat cheese),
poulet au champignons
(chicken in an herb cream sauce with sautéed button mushrooms) and
Banana Sara
(bananas in a brown sugar caramel sauce topped with rum and vanilla ice cream). And yes, they're big enough to share!
North Pond
(2610 N. Cannon Dr., 773-477-5845). Or go all out for your loved one with one of the city's most popular brunches, which overlooks Lincoln Park's pond. Your focus, of course, will be on each other as you nosh on
Bruce Sherman's
seasonal offerings. Right now, he's serving items like stone ground oatmeal with whipped cream, caramelized pears, almonds and cinnamon; a spice-rubbed Hangar steak; a pan-browned Rainbow trout; and dark chocolate sorbet accompanied by mint ice cream, cocoa cookie ganache and a salted butter cracker. $32 per person.