Get the "Willy Wonka"-inspired
The Snozberries taste like Snozberries
martini at Plan B Bar + Kitchen. (Photo: Plan B Bar + Kitchen)
Let's not take life too seriously today and indulge in cocktails that bring back good memories of childhood:
Put a little pep in your popsicle at
DeLaCosta,
which has created a refreshing summertime sipper. Their
Persephone Poptail
includes a mini pomegranate popsicle with the orange puree, Grey Goose L'Orange, Pama liquor and sparkling Shiraz setting it off.
The Kool-Aid guy won't burst through
Empire Liquors'
walls to deliver your drink, but you'll still be able to order the
Grape Coolade,
flavored with Three Olives Grape vodka, concord grape syrup, sour and soda water.
Oh yeah
.
And over at
Fat Cat,
you won't have to chase down the ice-cream man for this adult version of the
Bomb Pop
. The Uptown retro lounge has concocted a mix of Van Gough raspberry vodka and Sprite with a dash of sweet and sour mix and layered with Island Punch Pucker and cherry.
Enjoy a
Cold Chocolate
with your pastry at
Hot Chocolate.
This specialty cocktail combines Stoli Vanil, Kahlua, Baileys and homemade chocolate milk, shaken and served in a martini glass. You can also bring back childhood memories with their version of the
Creamsicle
that's made with Stoli Vanil, fresh orange juice and half & half, shaken to a froth and served over ice in a high ball glass.
Kitsch'n on Roscoe
offers retro décor and retro cocktails, including the infamous
Tang-tini
that will have you flyin' high with real Tang, spiked with Skyy Vodka and a touch of triple sec, served in a martini glass with an orange wedge.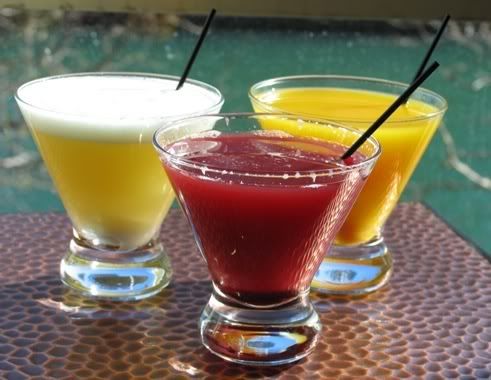 DeLaCosta's "PopTails." (Photo: DeLaCosta)
"Willy Wonka" gets a shout out at
Plan B Bar + Kitchen
for
The Snozberries taste like Snozberries
cocktail. It's made with Skyy Berry vodka, Skyy Citrus vodka, cranberry and pineapple juice and garnished with a Gummie Bear. The perfect answer to the question, "Who ever heard of a snozberry?!"
Indulge in a sweet
Honeycomb Margarita
at
Sepia.
They use their own house-made honeycomb tequila liquor to create this mix with partida blanco tequila and fresh lime juice.
And
Timothy O'Toole's
goes old school with the
Pink Panther,
which mixes X-Rated vodka, X-Rated Fusion Liqueur, DeKuyper Watermelon Schnapps and DeKeyper Peach Schnapps.—
Additional reporting by Suzy McMillen