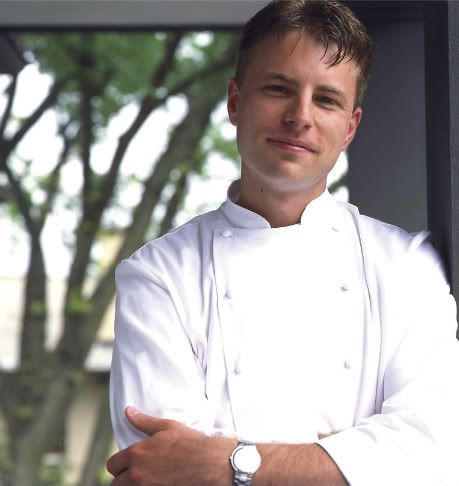 John des Rosiers, executive chef/owner of Inovasi in Lake Bluff, is one of many rising stars set to cook at the annual "Meals on Wheels Celebrity Chef Ball." (Photo: Inovasi)
It seems like there's some chef-focused fête going on every week, where the city's anointed culinary kings and queens gather for a good cause while doling out signature bites of sweet and savory stuff.
But the
Meals on Wheels Celebrity Chef Ball
, now in its 21st year, is the one that started them all. In its early days, the event was a modest Sunday brunch in a court yard, but now it's a grand affair, boasting the A-Listers
(Stephanie Izard, The Drunken Goat;

Jimmy Bannos

, Heaven on Seven;

Paul Kahan

, Blackbird)
as well as those on the come up (
John des Rosiers
,
Inovasi
;
Michael Fiorello
,
Mercat a la Planxa
;
Nick Lacasse
The Drawing Room)
.
What we love about this event is that it caters to both the foodie and the fashionista with two parties in one: The high rollers come early for
The Chef's Table
($250), a VIP, seated dining experience that's very intimate with the chefs. Immediately following is the
Chef Tasting Party
($100), a walk-around cocktail event that's high energy with apps from the star chefs, deejay, open bar, casino gaming, an interactive photo booth and live music.
The
Meals on Wheels Celebrity Chef Ball
occurs Oct. 16 at
Macy's
(111 N. State St.).
The Chef's Table
(which includes the
Chef Tasting Party
) starts at 6pm;
Chef Tasting Party
goes down 8pm-12:30am.
Check
here
for tickets and the full celebrity chef lineup.
Now there's
a video
too!