Acclaimed spoken-word artist Saul Williams performs at Double Door Tuesday.
Every Monday look for the week's top performances paired with the best deals before and after the show:
Faust
at
Lyric Opera
. The world's most famous opera can easily be applied to today's society: Selling out. Betrayal. Greed. Eternal Youth. Through Nov. 7 (starts at 7:30pm). Get tickets
here
.
Florian Opera Bistro
: After this three-and-a-half-hour performance, you're going to need a stiff drink for sure. Thankfully, Florian's bar, on the third level of Lyric Opera's building, will be waiting for you right after the show with signature cocktails and lighter bites.
The Sarah and Peer Pedersen Room
: The elegant dining room complements the upscale $28 three-course, prix-fixe menu served here. Expect seasonal entrees like hoisin-glazed salmon with Asian rice noodles and sliced bistro steak with chive mashed potatoes drizzled with Cabernet sauce. Located on the first floor of the Lyric Opera.
The Tasting Room
: Oh, it's not that far from the opera house. TTR is only five minutes by cab, and even less by car, so head down to the end of
Randolph Restaurant Row
for a nightcap. And they've just released their new fall menu too: Sharable plates of spiced-rubbed pork belly, cedar-smoked garlic & spinach flatbreads, and seasonal wild game gnocchi sound really good about now, right?! Kitchen's open 'til midnight during the week, and 1am Saturday.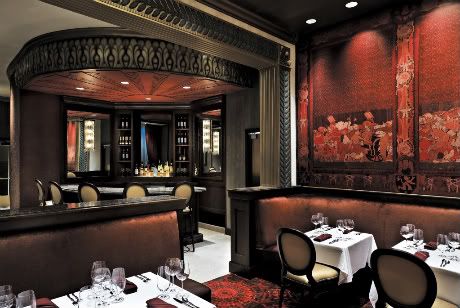 Jules Guerin's famed fire curtain makes a statement in The Sarah and Peer Pedersen Room. (Photo: balloggphoto.com/Lyric Opera of Chicago)
Macabaret
at
Theatre Building Chicago
. A collection of humorous new songs, which twist towards the morbid. Murderous spouses, horror films, evil cows and supermodels are just a few of the things parodied by a Corpse de Cabaret. Thursday-Nov. 1. Get tickets
here
.
Cooper's
: Located directly across the street from the theater, plus Thursdays are half-price pizza night!
Matsu Yama
: One of the area's best sushi spots still doesn't charge a corkage fee for BYOB, plus dinner for two is less than $35. Favorites:
Godzilla
and
Jack Chen's White Dragon Roll
.
Sapore di Napoli
: It's not only BYOB (also no corkage fee!), but the authentic Neapolitan pizzas are definitely on point. Highly recommended are the traditional
Margherita
and
Quattro Stagioni
(tomato sauce, mozzarella, artichokes, Kalamata olives, mushrooms, prosciutto).
Saul Williams
at
Double Door
. The acclaimed spoken-word artist—who memorably had every woman squirming in her seat with lust during a performance on
Girlfriends
—does a rare Chicago show. 8pm Oct. 27. Get tickets
here
.
Bin Wine Cafe
: On Tuesdays, you can pair your expensive glass of merlot with one of their signature half-pound burgers. For one night only they're $5 and come with chips.
People Lounge
: After the show, hit up the area's only tapas lounge for music by
DJ Mixtape
, who's spinning downtempo house and hip-hop, plus $5 Stoli cocktails, $2 PBR and $4 premium draft beer.
Tocco
: If you can prove you work in the nightlife or dining industries, your food's 25 percent off on
everything
each Tuesday.