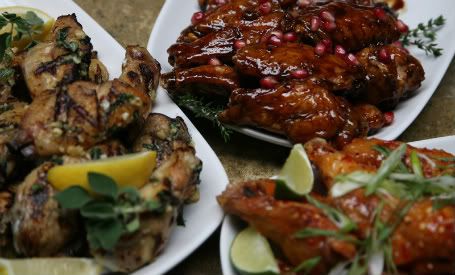 Rockit's WingFest continues through Oct. 23 at both locations. (Photo: Rockit Bar & Grill)
Man, this week is busy!
Belly Shack
,
Bill Kim
's sensational Asian-focused sequel to last year's
Urban Belly
, opens in Humboldt Park today.
Also, the annual
WingFest
, hosted by
Rockit Bar & Grill
, continues through Oct. 23 at the River North and
Wrigleyville
locations. For $10, you'll be treated to a dozen of executive chef
James Gottwald
's favorite taste profiles, including the decadent truffle butter tossed chicken wings paired with foie gras gravy; ultra-tangy wings drizzled in pomegranate and port wine reduction with mango dipping sauce; and the Asian-inspired wings with sweet chili lime and soy sauce.
Head over to
STATE AND LAKE
and check out the new fall lineup of beers, which includes 16 on tap, 20 by the bottle and three new $7 flights. For the flights, you'll get three five-ounce pours when you choose
All Hopped Up
(Avery Brewing Co., IPA; Surly, Furious Dry Hop Pale Ale; Founders, Red Rye Pale Ale),
Autumn in the Loop
(Great Lakes, "Nosferatu," Red Ale; Two Brothers, Cane and Ebel, Red Rye; Founders, Porter) or
For the Love of Beer
(Two Brothers, French Country Ale; Goose Island, Matilda; Left Hand, Milk Stout).
Neo-Soul star N'Dambi performs songs from new album, "Pink Elephant," at Rumba Wednesday.
More beer's on tap at
Socca
with the
All About Beer
dinner taking place Wednesday. You'll get seven beers paired with seven courses for $50, beginning with sausage-stuffed clams paired with Dogfish Head IPA and culminating in a dessert of sauteed heirloom apples with oatmeal cookie crumble and caramel gelato complemented by a "surprise" beer that's light and crisp. Reception starts at 6:30pm. Reservations required.
It'll be a roomful of stylish folks at the
900 Shops
(900 N. Michigan Ave.) for the official kickoff of
Fashion Focus Chicago
, the city's answer to
New York Fashion Week
. RSVP to boom@expagency.com for the glamorous gathering that includes cocktails, passed appetizers from the likes of
Sunda
,
Bull & Bear
and
Old Town Social
, plus sounds by the fabulously flamboyant
DJ Rock City
. 6-8pm Wednesday.
Also on Wednesday, it's finally time for the
Final Four
of the
Sweet 16 of Mixology
contest that's been going on since the spring.
Charles Joly
(The Drawing Room)
takes on
Zach Friedlander
(Relax Lounge)
in a freestyle cocktail competition at
Landmark
. You get to be the judge! Complimentary appetizers. 6:30-7:30pm. Free.
And finally, we cannot begin to tell you how excited we are about
N'Dambi
coming to town. The sultry Neo-Soul star will perform songs from
Pink Elephant
—just released earlier in the month—at
Rumba
on Wednesday.
Steve "Miggedy" Maestro
spins soul, R&B and hip-hop. 8pm-2am. $12.