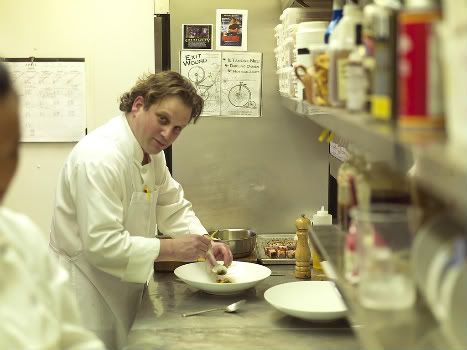 Paul Kahan (Photo: Battman Studios)
Big news early on this gloomy holiday morning arrives in the form of something we've been waiting for awhile.
The award-winning chef
Paul Kahan
's finally given a name to his taco-focused project going into the old
Pontiac Cafe
space.
Look for
Big Star
to open sometime in the late fall/early winter season. The honky-tonk inspired bar should be a welcome addition to the Wicker Park/Bucktown neighborhood indeed.
The menu's simple and inexpensive, offering tacos (including a specialty flavor of the week), queso fundido, and chips and salsa. Plus the drink list reads like a downscaled version of its uppity sister across the street,
The Violet Hour
, whose bar director,
Michael Rubel
, created the mixology program.
This is where people will go for nightly whiskey shots, bourbon and updated old-school sippers like
La Paloma
(Herradura Plata, lime, Squirt made in Mexico),
Bakersfield Buck
(Old Heaven Hill bottled in bond, lime, AJ Stephans ginger beer) and
Tequila Completo
(Don Julio Plata with housemade sangrita).
And finally, country music may not be our thing, but something tells us that the way it'll go down here will quickly change our minds. Deejays from sister bar
Danny's Tavern
and
Reckless Records
will spin insurgent country jams.