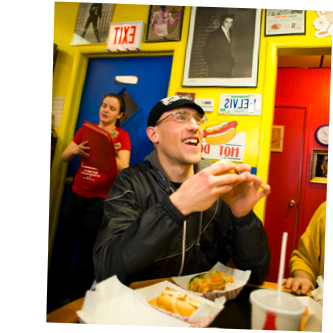 (Photo: Hot Doug's)
Too bad
Hot Doug's
is closed for vacation until August 25 because I'm totally craving one of their signature encased-meat sandwiches after this latest honor.
Food Network Magazine
named the Northwest Side spot one of the
Top Ten Regional Classics
in America.
They earned props for having the
Best Hot Dog Menu:
"
Doug Sohn
opened this bright 'encased-meat emporium' nine years ago after friends griped that they couldn't find good dogs in Chicago. Now fans line up around the block for specials like rabbit sausage with brie, foie-gras-and-duck sausage, and crawfish sausage with aged monterey jack."
See the entire list of other regional classics
here.