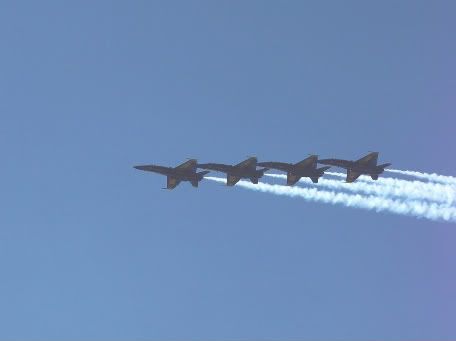 The U.S. Navy Blue Angels will rock the 53rd annual "Chicago Air & Water Show" this weekend.
Here's the thing.
You don't have a friend with a boat or a crib (with a rooftop!) that's close enough to check out the
Air & Water Show.
So the next best plan is to head over to a number of spots near the lakefront.
In 2010, the
Signature Room,
for the first time ever, opened its doors for a special party for guests to have the best seats to the action.
While those wishing to see the show from the
Hancock Observatory
had to wait for hours to get to the top, party-goers were whisked right to their destination within minutes. It was such a success that they're doing it again this year and the event includes a sweet and savory buffet of goodies created by Executive Chef
Patrick Sheerin,
open bar and of course premium seating.
The Signature Room's event doesn't come cheap at $130 per person, and reservations are highly recommended by calling
the restaurant.
11am-4pm Saturday and Sunday.
Additional events going down this weekend for the

Air & Water Show

:
The Signature Room's event is completely indoors, while
Castaways
occurs on the rooftop of a renovated, stationary boat at North Avenue Beach, so you can show up in your swimsuit if you want. This one's pretty much the same deal, but includes breakfast, lunch and an open bar. The limited tickets are $100 (9am-3pm Friday) and $160 (9am-4pm Saturday and Sunday) and may be reserved by emailing afrankos@stefanigroup.com.
Over at Oak Street Beach is
Oak Street Bistro,
which will also offer seating, etc. Friday-Sunday to watch the show. Friday's festivities include a chef's table with open bar 11am-2pm for $60 and a separate open-bar deal (11am-3pm) for $30. Saturday and Sunday gets you the same deals, but prices increase: $50 you'll get a four-hour bar only 11am-3pm; chef tables are $90 noon-2pm and include an open bar.
All of the boats along
Navy Pier
will have specials during the weekend, but I'm more partial to
Odyssey Cruises,
which have always had the best food of them all. Maple-glazed chipotle chicken, lobster bisque, sesame-grilled salmon are just some of the choices during lunch. See times and prices
right here.
And if you're looking for a more intimate cruise experience,
Yacht Chicago
at
Burnham Harbor
is the ticket. Deal includes food and open bar. 10:30am-6:30pm Saturday and Sunday. Get the $150 tickets
right here.