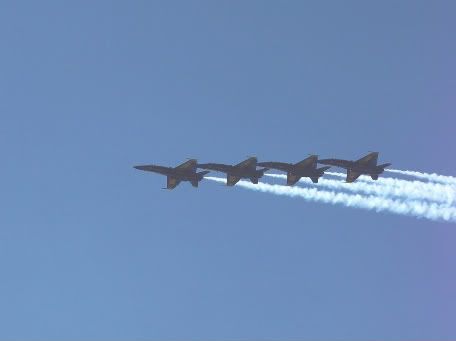 The U.S. Navy Blue Angels will rock the 54th annual "Chicago Air & Water Show" this weekend.
If you're not lucky enough to have friends with a rooftop or a boat this weekend, there are several places happy to take you in if you're looking for sweet seats to view the
Chicago Air & Water Show.
Of course it's gonna cost you . . .
At
Castaways Bar & Grill,
right off
North Avenue Beach,
they're doing limited seating Friday through Sunday. If you want to take advantage of Friday's practice runs during lunchtime, it'll cost you $100 for food and an open bar. That's 9am-3pm. Saturday and Sunday's festivities cost $160 per person for food, open bar and an extra hour (until 4pm). Email
afrankos@stefanigroup.com
for resos.
If you act fast, you might be fortunate enough to get in on the action at the newly opened
J Parker
in Lincoln Park. You'll get 360° angles, which include the most spectacular views of the show. Seats are available Saturday and Sunday, but there's a $100 table minimum for four guests. That shouldn't be hard to spend, seeing as how cocktails (including the Parker Paloma and Rose Sangria) are all $13. Punchbowls are $200 each. Reservations required by calling the restaurant.
You can go a la carte or VIP at
Oak Street Beach Food + Drink.
Get there early to nab seats and snack from the various food stands and beachfront bar. Or you can order VIP tickets in advance for the tented private area, which will serve up tacos, hot dogs, burgers and more at various stations, as well as an open bar. That's $95 per person; $45 for children 12 and under. Saturday and Sunday only.
Cruise the lake on the
Odyssey
or
Spirit of Chicago
to watch the action Friday through Sunday. Here's the
entire schedule,
which includes prices and times. You'll pay $39.90-$79.90.
It's completely enclosed, but you'll get to watch the planes swoosh by the window at
The Signature Room at the 95th.
For $130 per person, the offerings include an open bar of summer-focused cocktails, plus a buffet of breakfast and lunch options. They'll also roll out a dessert buffet of seasonal fruit tarts, various macaroons, vanilla panna cotta with blueberry gelee, flourless chocolate pucks, white chocolate salted lemon fudge and more. Noon-3:30pm Saturday and Sunday. Reservations required.
To celebrate the occasion,
The Terrace at Trump International Hotel & Tower Chicago
has created a special cocktail: the
Blue Falcon
of vanilla vodka with fresh muddled blueberries and Blue Curacao (water), topped with egg white foam (clouds). Doors open at 10am on both days, and the cocktail is available now through Sunday. Lucky for you, it's first come, first served for seating. No package deals, but the specialty cocktail is $22.
W Lakeshore
's new
Wet Deck
also offers some spectacular views, plus a pool! Included in the party is a deejay, grilled fare (burgers, hot dogs, Portabello burgers) and an open bar. 10am-3pm Saturday and Sunday. $150 for adults; $25 for kids 13 to 20; free for kids 12 and under. Make a reservation
right here.
Seating is not guaranteed, so arrive early.