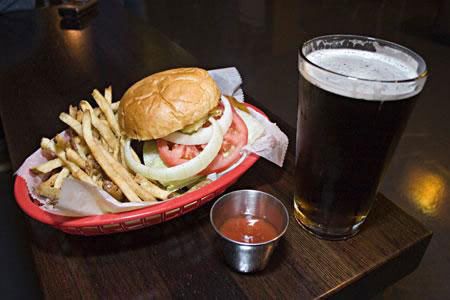 Relax with Relax Lounge's homestyle burger during National Hamburger Month. (Photo: Relax Lounge)
In high school, May 1 was "national hooky day" for seniors. But now that we're all grown 'n' sexy, we've got bigger things to look forward to this month:
May is
National Hamburger Month
, and we're not talking the
Golden Arches
or
Having it Your Way
. Head to
Potter's
(17 E. Monroe St., 312-917-4933), the sleek new lounge tucked inside the
Palmer House Hilton
, for a trio of Kobe beef silver dollar sliders that come on mini brioche buns and drenched with black peppercorn sauce. Get them with the flavorful truffled potato chips. In West Town, make your way to groovy rock spot
Relax
(1450 W. Chicago Ave., 312-666-6006) for a juicy 1/3 lb Angus beef burger or surprisingly delicious veggie burger drizzled with their special "Pharmacy sauce." Add a basket of hand-cut fries for only a $1. And at
Harry Caray's Tavern
(3551 N. Sheffield Ave., 773-327-7800) in Wrigleyville, you'll want to take advantage of the
Holy Cow! Burger Bar
, where you customize your burger at a special station. Choose the meat (Wagyu beef, Tallgrass beef, venison, lamb or veggie), preparation (charbroiled, Cajun, peppercorn crusted), sauces (Jack Daniel's BBQ sauce, Harry's Famous Chili) and bun (sesame brioche, whole wheat, potato) for the perfect sandwich.
Also happening all month is
Pure New Zealand: Wines to Dine For
, a month-long tribute to New Zealand wines as some 30 area restaurants offer varietals by the glass, by the flights and paired with select menu items. Favorites such as
Shaw's Crab House
(21 E. Hubbard St., 312-527-2722),
Tru
(676 N. Saint Clair St., 312-202-0001) and
Feast
(1616 N. Damen Ave., 773-772-7100) will host wine dinners while both locations of
Goddess and the Grocer
(1646 N. Damen Ave. or 25 E. Delaware Pl.) will offer 10 percent off all New Zealand wines. A complete list of restaurants can be found
here.
Also happening:
THURSDAYSocial Therapy
, hosted by
Miracle Entertainment
and
Chicago's Black Professional Network
, takes place at
Victor Hotel
(311 N. Sangamon St., 312-733-6900). The party gets started right after work at 6pm and continues until 2am. Deejays
I.N.C.
and
World
crank out all the classic and contemporary dance music for your grooving pleasure.
Sola's
(3868 N. Lincoln Ave., 773-327-3868) executive chef
Carol Wallack
is heading to the world-famous
James Beard House
in New York to cook next week, but before she jets off, she's previewing that special supper to local diners. For $85, you'll get a five-course meal paired with wines. The menu includes Berkshire "kalua" pork potstickers; Vietnamese-style pho with oxtail dumpling, bean sprouts, herbs, and chilies; cocoa nib crusted scallops; and a double cut "sola" lamb chops stuffed with cambazola served with curried eggplant and chinese long beans and crispy cippolini.
Braziliance
returns to
Sonotheque
(1444 W. Chicago Ave., 312-226-7600), featuring local deejays spinning infectious Afro-Brazilian, Latin and other mesmerizing music. Get busy at this super-sensual party where there is
noooo
parking on the dance floor. 9pm-2am. $5.
FRIDAY
It's the second-annual
Looptopia,
happening 5pm until 7am Saturday in the heart of the city. The event showcases top and emerging local artists for 14 hours, and concludes at sunrise (7am) with a special performance in
Millennium Park
.
It's
Lumen's
(839 W. Fulton Market, 312-733-2222) first-ever champagne tasting, and master sommelier
Serafin Alvarado
—a recipient of the prestigious 2005
Bill Rice Distinguished Sommelier of the Year
award—will guide guests through the various sparkling wines. Assorted appetizers from
Jordan's Food of Distinction
and
Vosges
chocolates will be served with each bubbly. 8pm-2am. $40.
Who needs
"Dancing with the Stars"
when we have the finals of the annual
Nacional 27
(325 W. Huron St., 312-664-2727)
Bacardi-Bud Select Salsa Competition
happening right here under our noses?! Watch the very best salsa dancers square off against one another during this very energetic event. Begins at 11pm. $50 per person food and beverage minimum in the dining room (Guests may keep their table to watch the competition). Guests not enjoying dinner will be charged a $20 cover charge.
If you haven't started shopping for your spring threads, it's not too late. Bucktown boutique
Roslyn
(2035 N. Damen Ave., 773-489-1511) teams up with non-profit
Bright Pink—
which supports young women at risk for breast or ovarian cancer—for a
Spring's Best
fashion show at
Climax Lounge
(324 W. Chicago Ave.), featuring looks from
Vera Wang, Christopher Dean
and
Erica Davies
. 8-11pm. $35 in advance; $50 at door.
SATURDAY
It may be a little chilly outside, but
Salud Tequila Lounge
(1471 N. Milwaukee Ave., 773-235-5577) is throwing its rambunctious outdoor festival to celebrate
Cinco de Mayo
. The event will include live music, dancers, drink and food specials. Gates open at noon and the party goes on until 2am. Free.
And
Adobo Grill's
grande
Cinco de Mayo
happens all weekend long (Friday through Monday, May 5) with specials on food and margaritas. You'll also get to nod your head to mariachi bands at both locations: 1610 N. Wells St. or 2005 W. Division St.