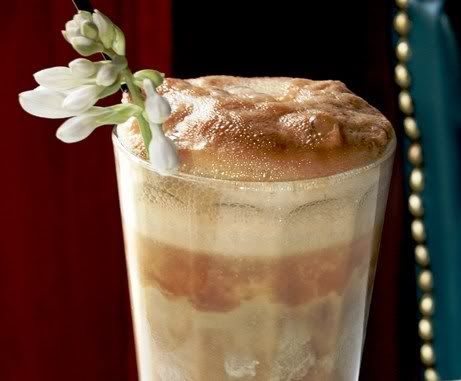 Cafe Matou's "adult" Root Beer Float gets its kick with a shot of Meyer's Dark Jamaican Rum. (Photo: Peter Riskind for Cafe Matou)
August is a big month for birthdays:
John McCain, Madonna, Michael Jackson
. . . and
The Root Beer Float
!
Created in Colorado on Aug. 19, 1893, by
Cripple Creek Brewing's
Frank J. Wisner
, the first one was made by "floating" a scoop of ice cream in a glass of
Myers Avenue Red Root Beer
. Wisner named the drink after nearby
Cow Mountain
, but it was later shortened to "black cow" and is now interchangeable with "root beer."
So today, why not celebrate the Root Beer Float's birth with a nice, frothy treat at one of these places doing them
very
well:
At
Cityscape Bar
, it is served "adult style," as mixologists hook 'em up with Absolut vodka, Root Beer Schnapps, Godiva Chocolate Liqueur and a root beer candy. The lounge is located on the 15th floor of the
Holiday Inn Merchandise Mart
, so you'll get sweeping views of the city as you sip your sweet treat.
Café Matou
in Wicker Park also kicks its version up for adult consumption. Wine Director
James Rahn
calls his
Le Chat de Calicot d'Ivrogne
, a blend of Thomas Kemper Root Beer, house-made vanilla ice cream and a shot of Meyer's Dark Jamaican Rum. It's best enjoyed on their intimate outdoor patio right after dinner.
Celebrated Pastry Chef Gale Gand created a Root Beer Float cupcake for More. (Photo: More)
Head to Elk Grove Village for
Sweet Baby Ray's
delicious concoction that's the perfect ending to their hearty barbecue dinners. This high-end Root Beer Float features Weinhard's Root Beer and Homer's vanilla ice cream, and is served in a 16 oz. frosted beer scooner.
It doesn't open until Sept. 12, but the Gold Coast's
More
will be a hit with 'hoodsters for the Root Beer Float cupcake. Super pastry chef
Gale Gand
(who's actually known for her Root Beer Floats) creates it with a yellow cake base with root beer frosting and garnished with a hard root beer candy and straw.
And leave it to gastropub
Paramount Room
to put the
beer
in the Root Beer Float: Their black and tan float is made by combining Guinness ice cream and Abita root beer.—
Additional reporting by Suzy McMillen