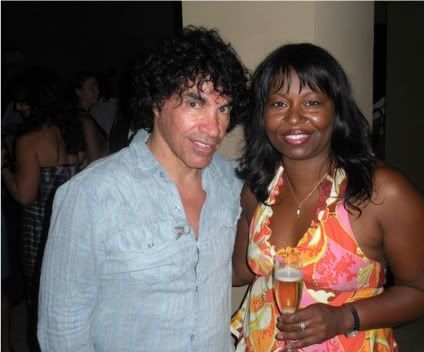 "The Bubbly Bar" author Maria Hunt sharing bubbles with Hall & Oates legend John Oates. (Photo: Maria Hunt)
Chicago native, Northwestern grad and all-around fabulous gal
Maria Hunt
knows a thing or two about sparkling wines.
So much that she compiled all her knowledge in a fun new tome,
The Bubbly Bar: Champagne & Sparkling Wine Cocktails for Every Occasion
(Clarkson Potter/Random House; $17), that's certain to be a best seller as we enter the full-on entertaining holiday season.
In it, she's assembled more than 57 recipes that make
312DD
thirsty just thinking about them. From the
Classics

(Champagne Cocktail, French 75, Kir Royale)
to
Bubbletinis
to a number of muddled and mixed masterpieces, you'll find drinks for every occasion.
It's available in stores now, but we'd rather schmooze with the author when she hosts a very tony cocktail party/booksigning at the
tres
approps
Pops for Champagne
.
That's 6-8pm Thursday, Oct. 1. The $25 admission fee gets you a signed copy of the book, appetizers, and of course (!!!!!) bubbly!
RSVP to info@popsforchampagne.com to reserve your space.