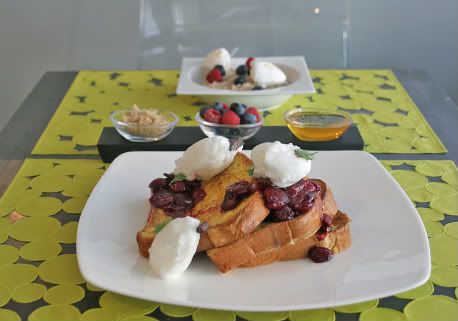 (Photo: Courtesy of Urban Daddy Chicago)
The last time I hit up neighborhood brunch/lunch joint
Jam
, culinary king
Giuseppe Tentori
(Boka)
and the mad eccentric
Graham Elliot Bowles
(graham elliot)
were in the jam-packed house.
Too bad I missed out when the
Chicago Reader
came through
, as I would've loved to have seen the look on the reviewer's face when
these dishes
came out:
"Early notices touted (chef
Jeffrey) Mauro
's sous vide malt custard French toast and eggy plates fashionably loaded with pork cheeks and belly, which gave me the impression that this was going to be the sort of brunching meant for blanketing uneasy stomachs and pounding heads. And indeed Mauro's egg sandwich, a French roll with slabs of meaty braised pork cheek covered in a lava flow of egg yolk, has a restorative quality, marred only by a cloying sweet-and-sour peach ketchup—a rare case of sugar failing to help the medicine go down.
"Buckwheat crepes stuffed with braised lamb are plated more successfully, with perfect spheres of Asian pear, but biscuits and gravy with satisfying chunks of rough-cut cotechhino sausage are nearly undone by a gray shiitake gravy that looks far less appetizing than it actually is."