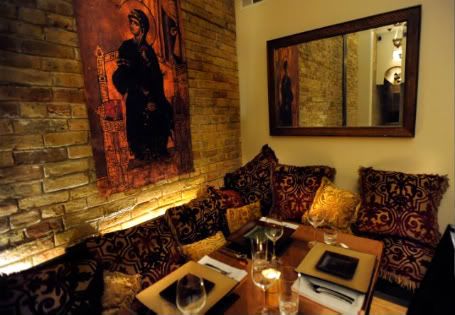 (Photo: Taxim)
Still scratching my head over why
Taxim
, a glamorous new Greek restaurant in Wicker Park, only got "one star" from the
Chicago Tribune
's
Phil Vettel
.
He apparently loved the food, from the overall tone in his
review
:
"Good-tasting lamb chops were nearly upstaged by their plate companions, a chewy and delicious bulgur pilaf and a fanciful skordalia that was really a vivid-green pesto of Greek oregano, pine nuts and garlic. The fascinating duck gyros were a cross between a shawarma and Peking duck -- spit-roasted duck meat lacquered with pomegranate syrup, packed with yogurt-mint sauce in soft wraps of house-made satz bread (a soft flatbread cooked on a heated dome). The roasted chicken is very good, helped considerably by assertive amounts of oregano and garlic, some yummy cooked-in-fat potatoes and pieces of ouzo-preserved lemons. The roasted sea bass is moist and sweet, graced with kisses of lemon and olive oil and propped on a bed of chewy dandelion greens, which supply a bitter counterpoint."
Yet the service was a little spotty when he returned on the weekend:
"A follow-up visit on a weekend night found a chaotic dining room and a kitchen deep in the weeds. Our appetizers arrived five minutes apart; the gap between the arrival of our entrees was so great it was like eating separate courses; and no server seemed to notice."
But did this review really warrant only one star, which translates to "good?!" Vettel's been doling out "three stars" lately like
Glinda the Good Witch
, so I'm just a little surprised they didn't get a
little
more love . . .