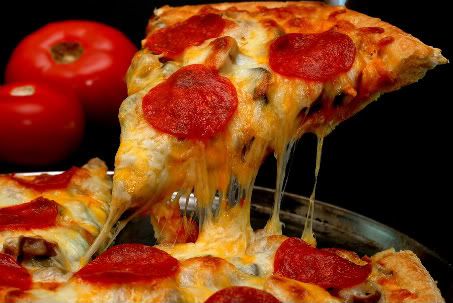 Pizza Freaks!
Boy, have I found something you'll love:
WorstPizza.com
is a new site by
Craig Agranoff
, a self-described "pizza expert," who's cataloging the best pizza in South Florida and the entire United States. It's complete with a interactive pizza map, easy-to-find slice ratings and a special section on new store openings and closings in local areas.
There's a ton of Chicago restos on here, including
Giordano's
,
Panino's
,
Lou Malnati's
and
Stefano's
.
The site also had this pretty glowing
review
for the much-heralded
Sapore di Napoli
:
"I'm not sure how authentic Sapore di Napoli's Neapolitan pizzas are, but they definitely fulfill the fragrant requirement. The ingredients are incredibly fresh; the Salsiccia pizza's Italian sausage was homemade and tasted incredible, and the mushrooms from the Funghi pizza were more complementary to the pizza than any pizza I can remember eating. The Margherita pizza was ranked best in town by
Chicago
magazine, so you might choose to evaluate the restaurant by its known dish. I was pleased by my Neapolitan pizza-eating experience, and the restaurant is clean, comfortable, and a good place to have dinner and a bottle of wine on a warm summer's night."