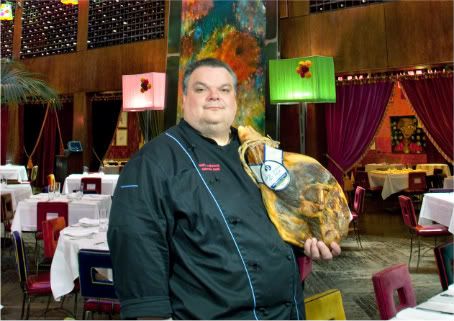 Chef Mark Mendez (Photo: Carnivale)
Some shocking news, folks, on the chef front.
Mark Mendez
is stepping down as executive chef of hot Latin resto
Carnivale.
From
his blog:
"After six wonderful years I have decided to leave Carnivale to pursue opening my own restaurant. This without a doubt will be my greatest challenge in life. I am excited, anxious, and terrified all at the same time. I felt this was the right thing to do at this time, trying to run the kitchen at Carnivale and try to find locations etc, was just too much and I didn't want to give Carnivale less than my utmost attention. ...
"I am more than a little frightened. I know in my heart that to keep getting better you have to keep pushing, doing things outside your comfort zone. There is a part of me that worries that I will open a restaurant and no one will show up. It's an irrational fear I know a lot of other chefs have had and still do.
"As far as the concept, I want to go in a slightly different direction than Carnivale. I want to open a casual wine bar and focus on more authentic Spanish food, more on that later. The idea of creating new dishes, using different ingredients, training a new staff is exciting to me and look forward to the challenge. Carnivale has been such an extraordinary experience, but it's time to move on and I look forward to the challenges that lie ahead."
Carnivale's Executive Sous Chef
David Dworshak
takes over as executive chef, with Mendez staying on during the transition until Sept. 1.
We wish them both much luck!