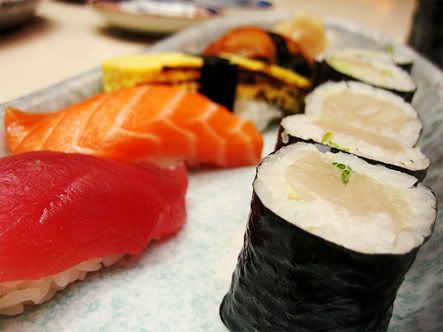 If you follow me on Twitter
@Audarshia,
then you know how obsessed I am with
@Foodimentary
's useful "food of the day" tweets.
I typically keep my postings about the "food of the day" on Twitter only, but this particular day deserves a shoutout on
312DD
!
It's
International Sushi Day
on Saturday, and to celebrate,
RA Sushi
's giving away its signature
Tootsy Maki
from 11am to 7pm. It comes with Kani kama crab mix, shrimp and cucumber rolled and topped with crunchy tempura bits and drizzled with sweet eel sauce. To get it, you must "like" RA Sushi on Facebook and print the offer from its page.
That's the only freebie I could find for
International Sushi Day,
but the occasion also gives me the opportunity to gleefully list some of my fave sushi spots in the city:
Butterfly:
Both locations (
River West,
West Town
) offer the same vibe, which is cozy, neighborhood-friendly and zero pretension. I don't like a lot of nonsense on my sushi, which makes their simple preparations of Lobster Salad Maki, Salmon Skin Maki with spicy mayo and spicy salmon maki right up my alley. BYOB.
Coast:
Another bustling BYOB, I prefer the
South Loop
location to the original one in
Bucktown.
But that's only because it's easier to score a reso, especially on weekends when you have a big party. The menu is identical, with delish signature maki like
Sunrise
(ginger seared tuna, mint, wrapped with mango) and
Wasabi
(yellowtail, grilled asparagus rolled in wasabi tobiko and wasabi mayo).
Mirai:
The clubby Wicker Park spot is just as hot today as it was when it opened more than 10 years ago. The sexy upper level lounge/dining room makes it stand out from all other sushi bars in the city. The soft-shell crab and
Spicy Tar-Tar
(tuna, octopus or scallop served with sweet unagi sauce) rolls are not to be missed.
Sushi Samba rio:
Though it's part of a chain, this River North location offers a unique vibe with the sweet
Sugarcane
lounge on the upper level and expansive cocktail list filled with lush Asian and Latin libations. Awesome menu choices include the
Green City
(sweet corn, green bean, asparagus, green tosaka) and
Celebration
(spicy snow crab maki, premium sashimi) rolls.
Sushi X:
This unassuming storefront looks rough on the outside and sorta no-frills inside. But that's cool because they make up for it with their sushi selections. We absolutely die over
Double Stack
(tuna, albacore, salmon, cilantro, jalapeno, avocado, mayo, roe, citrus chili ponzu),
Honey
(white tuna, tempura flakes, cucumber, honey sesame mayo),
Red Dragon
(tempura shrimp, mayo, roe, sriracha, jalapeno, topped with spicy tuna and scallions) and the rice-less, carb-free
Lava
(spicy tuna, cream cheese, scallion, tempura-dipped with eel sauce). BYOB.
Tank:
And Lincoln Square's favorite sushi can be found at this casual spot with a mind-blowing list of options. Even when you go simple, you're certain to be impressed with traditional maki choices like spicy shrimp and tuna, which are all topped with sesame seeds. And though they go a little nutty on the signature maki board, the one big highlight for me is
B'LT
(crispy salmon skin, lettuce & avocado wrapped with fresh tuna and topped with masago mayo). BYOB.