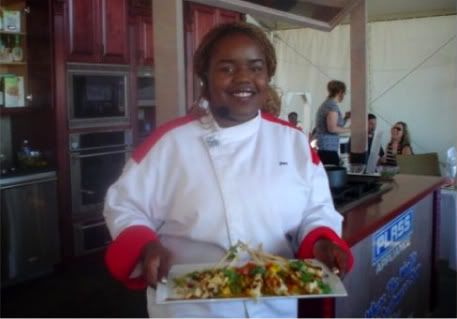 Jennifer Gavin of Catered Excellence. (Photo: Jennifer Gavin)
Until now, we haven't heard much from
Jennifer Gavin,
the charismatic chef who appeared a few seasons back on
FOX-TV
's
Hell's Kitchen
and then went on to helm the kitchen at
The Big Easy
in Hyde Park.
That's namely because the Orland Park-based toque has been on the road catering for a number of high-profile bands and productions, including the likes of
Usher,

American Idol Live Tour, So You Think You Can Dance Tour
and
Nickelback.
But it appears that she's been itching to get back into a restaurant kitchen because she posted this status to her Facebook page Tuesday:
"Just realized I have been going about this restaurant location search all wrong!! I have been looking up north, downtown, South Loop and never considered the South Side! All the other restaurateurs I know are afraid to put a quality restaurant on the South Side. I will be the first!!
"It is my God Given Duty to serve my community and expose them to quality food, in a great atmosphere at a decent price. FB what do you think about that new development on 83rd St. near Wentworth? Where that Potbelly, Home Depot and Walmart Express is?? The zoning is perfect for a martini bar and grill, it's near the highway so people shouldn't be 'scared' to travel there right?? I want to appeal to all markets not just one demographic. ..."
Let's hope this happens for her!