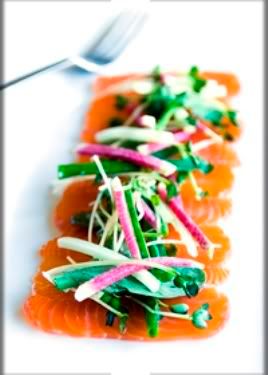 Sola's ginger-glazed salmon
Thank
God
Thanksgiving is over. Did you get enough turkey to eat? If you're so over picking on those leftovers, check into this:
"Mahalo Mondays"
happens every Monday at
sola
(3868 N. Lincoln Ave., 773-327-3868), the New Hawaiian sensation in North Center, until the end of the year (New Year's Eve!).
Mahalo
is the Hawaiian word for "thank you," and they're doing so by offering half-price bottles of wine.
So that gives you the chance to sample one of their gloriously fresh fish entrees, which range from $24-$26. My favorite picks include the hoisin-mustard-panko crusted tuna with bamboo rice, avocado tempura drizzled with soy-wasabi buerre blanc; the seared and ginger-glazed salmon with
edamame puree, truffle teriyaki sauce and green bean tempura; barramundi with black forbidden rice, baby bok choy, black sesame, coconut butter; and the pumpkin-seed crusted Mahi Mahi accompanied by Japanese heirloom squash and truffle vinaigrette.
Makes you wanna gobble, gobble, huh?