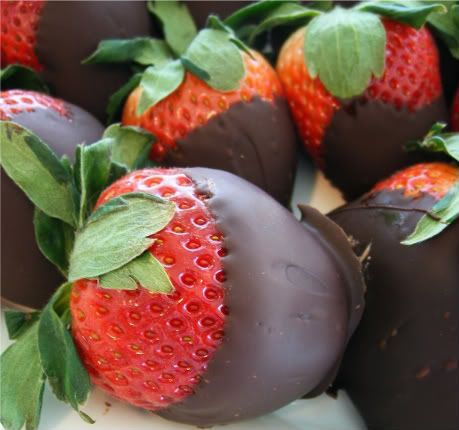 Valentine's Day
is perhaps the biggest time of the year for pastry chefs, so our friends at the
Restaurant Intelligence Agency
asked their thoughts on the occasion in the new
Back of the House
feature:
What foods say "romance" to you?Todd Feitl
(
Vie
): I guess chocolate-covered strawberries because it is kind of a standard.
Craig Harzewski
(
NAHA
): Anything cooked at home and anything that has been braised.
Jeannie Stephenson-Posilovich
(
The Goddess & Grocer
): I read somewhere that food is "sex for the stomach." I agree and I love to eat—a lot. So, all foods say romance as long as they don't give me bad breath and a tummy ache.
Are there any ingredients with aphrodisiac properties that you plan to use? If so, how did you learn about these ingredients?Feitl
: The only ingredient I know of that I use, as far as an aphrodisiac goes, is chocolate. I think I read somewhere that truffles can be an aphrodisiac and I have a black truffle ice cream available on my ice cream list.
Harzewski
: Chocolate!
Kimberly Schwenke
(
312 Chicago
): I am making rose preserves with red rose petals. The oil from the rose petals is considered an aphrodisiac. The rose preserves are both a visual addition to the plate and, more importantly, another level of flavor for the dessert.
Stephenson-Posilovich
: Just chocolate. Obviously that is the ultimate mood-enhancing food. But I'm not trying to "turn on" our customers. I just want the desserts to taste good and be truly satisfying.