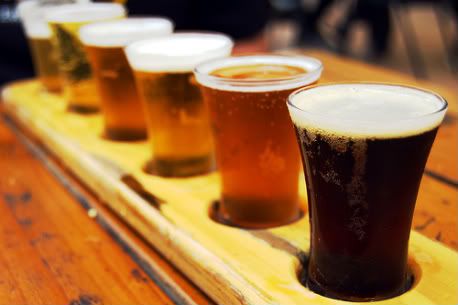 Those into the beer scene will appreciate these events pairing suds with supper (or brunch):
Lincoln Park newcomer
2 Sparrows
has already garnered rave reviews for breakfast and lunch, so now they're delving into dinner with the launch of a monthly beer series.
The plan is to highlight prominent breweries throughout the Midwest, and pairing the beers with seasonal and locally sourced dishes from Executive Chef
Gregory Ellis.
The event debuts Dec. 9 with
Finch's Beer Co.,
with reps from the Chicago-based small-batch brewery on hand to co-host the evening. The event is $60 per person, and reservations can be made at 6, 6:30 and 7pm.
Here's what guests will get:
Country pate and pork rilette
(paired with Finch's Cutthroat Pale Ale)
Scallop with crispy pig trotter
(Finch's Golden Wing Blond Ale)
Porchetta with a Sunny-Side Egg
(Finch's Threadless IPA)
Malted Crepes with blueberry mascarpone
(Finch's Smoked Honey Dunkelweiss)
Two more events you don't want to miss:
Bangers & Lace
chef
Adam Wendt
has created a six-course dinner to complement a number of beers from Artisanal Imports. The highlight of the night should be
Deus (Brut des Flandres) a Biere de Champagne,
a $50 beer that hails from France.
The dinner is $68, and can be had by contacting the restaurant
here.
It happens 6:30pm Dec. 7.
Here is what to expect that night:
Deus soda bread, seafood sausage, brown butter caviar, kumquat [
DEUS (Brut Des Flandres) – Biere De Champagne
(Brouwerij Bosteels, Belgium)]
Sylta, pickled beets, black radish, red onion, butter chip [
La Trappe Witte – Trappist Witbier
(De Koningshoeven/La Trappe, Netherlands)]
Rabbit sausage, green apple, fig, pomegranate, greens, pecan aillade [
Tripel Karmeliet – Abbey Tripel
(Brouwerij Bosteels, Belgium)]
Pork sausage, plantain fritter, speck slaw [
Pauwel Kwak – Belgian Amber Ale
(Brouwerij Bosteels, Belgium)]
Shortrib ravioli, black trumpet mushroom, meantime gravy [
Meantime Scotch Ale – Scotch Ale
(Meantime Brewing Co, England)]
Brown sugar crème caramel, spiced oranges [
St. Feuillien Speciale – Special Holiday Ale
(Brasserie St. Feuillien, Belgium)]
And
SmallBar Division
's
Justin White
teams up with
Dogfish Head Brewery
for some unique pairings during brunch. All items are a la carte and range $9-$13. The event happens 10am-2pm Saturday with these mind-blowing bites and brews:
Creamy peanut butter buns with roasted banana custard and bacon cardamom custard
(Midas Touch)
Honey glazed gulf shrimp, potato rosti, frissee & herb salad with mustard shallot vinaigrette
(My Antonia)
Smoked ham hock crepinette with stone ground grits, fired bread and red eye gravy
(Bitches Brew)

Roasted delicate squash stuffed with cinnamon steel cut oats, golden raisins and burnt orange peel
(120 Minute)