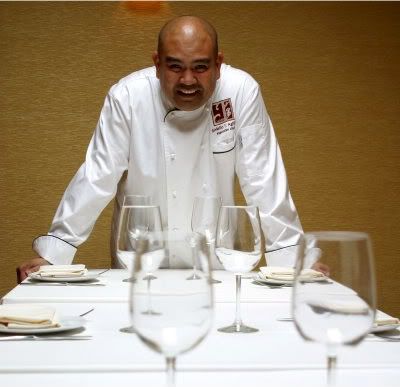 Chef Rodelio Aglibot. (Photo: Sunda)
For the past few months, there's been speculation about where former
Sunda
Executive Chef
Rodelio Aglibot
was going next.
There were whispers in the industry about him returning to the River North area to focus on another Asian-inspired concept, but an
Ultimate Insider
tells
312DD
that only half of that is true.
Apparently he's signed on as executive chef for a new project that'll go in the space currently occupied by
Aja
in the
Dana Hotel.
And while Aja is very Asian-focused, the yet-unnamed venture will not be. We're hearing that it will be an American contemporary restaurant with an oyster and sushi bar.
This is so awesome for Aglibot (a.k.a.
The Food Buddha
), a well-respected, internationally known chef who garnered a loyal following on his food-focused show on
The Learning Channel.
Just one question remains: The last time I heard about a venue taking over Aja, it was rumored to be
Harry's Velvet Room,
the sexy cocktail lounge from nightlife impresario
Dion Antic.
Hmmmmm,
I wonder where that will end up now . . .
No word yet on when the new project will happen, but we expect them to start working on it soon.